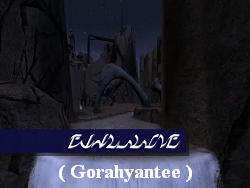 Gorahyantee is the D'ni word for Clocks.
Download Gorahyantee (length 5m10s):


Windows Media (32MB) |

QuickTime (50MB)
This music video is a machinima, with footage captured in a video game called Myst Uru: Complete Chronicles (license presently held by Ubisoft) and synchronized to Clocks, a song by Coldplay from the album A Rush of Blood to the Head and Copyright © 2002 Capitol Records/EMI Records Ltd. The video was assembled using Windows Movie Maker 2.1.

Problems viewing this movie? Help is available.

Like this video? More Uru videos here.

See the Official video of Clocks (YouTube).

If you like this song, please support the original artists.