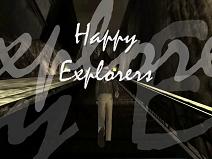 Happy Explorers is the short tale of our day to day experience in the cavern and Ages of D'ni.
Download Happy Explorers (length 6m31s):


Windows Media (46MB) |

QuickTime (62MB)
This music video is a machinima, with footage captured in a video game called Uru: Ages Beyond Myst and synchronized to The Happy Worker by Tori Amos and Ebudae by Enya. These songs are from the Toys soundtrack, Copyright © 1992 Geffen Records. The video was assembled using Windows Movie Maker 2.1.

Important Note: This video shows puzzles and some solutions from Uru: Ages Beyond Myst, part of Myst Uru: Complete Chronicles and Myst Online: Uru Live. Some players may prefer to skip this video to avoid spoilers.

Problems viewing this movie? Help is available.

Like this video? More Uru Videos here.

If you like these songs, please support the original artists.