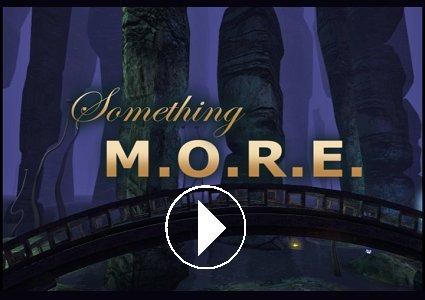 Click on the image above to play Something M.O.R.E. (length 3m41s),
or chooose one of the following links to download:


Windows Media (37MB) |

QuickTime (39MB)
Congratulations for solving the 2nd UruTV puzzle!
This music video is a machinima, with footage captured in video games called Myst Uru: Complete Chronicles, Myst Online: Uru Live, and Myst V and synchronized to More, a song by Tyrone Wells from the album Remain and Copyright © 2009 Universal Republic, part of Universal Music Group. The video was assembled using Adobe Premiere Pro 2.0.

Myst Online: Uru Live was a multiplayer adventure/puzzle game from Cyan Worlds, the makers of MYST and Riven. Originally incarnate as "Uru Live", it was aborted before the completion of open beta in February 2004. In 2006, GameTap announced it would restart the venture as Myst Online. The service ran for about one year before GameTap cancelled it, and the servers went offline in April 2008.

Problems viewing this movie? Help is available.
If you are unable to view the QuickTime version, please upgrade to QuickTime 7 or later.

Like this video? More Uru Videos here.

If you like this song, please support the original artist.